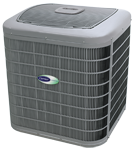 Air conditioners may look similar, but their Seasonal Energy Efficiency Rating (SEER) can vary widely. Higher SEER numbers save more money spent on electricity. A 13 SEER air conditioner, the EPA "current minimum standard", uses 23% less energy than a 10 SEER unit (EPA standard up until Jan. 2006). Even though 13 SEER is the minimum efficiency available, we currently offer a line of air conditioners that start at 13 SEER and go all the way up to a 21 SEER. Depending on your average usage, higher SEER air conditioners can significantly reduce your electric bill.
Additionally, we offer many air conditioners that have advanced features, such as 2-stage compressors and variable speed fan operation. These features not only improve the comfort level of your home, but can provide additional energy savings as well.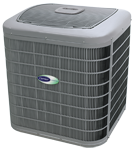 Heat pumps are a great solution for your home comfort system because they work to provide both heating and cooling. Heat pumps have SEER ratings like air conditioners and Heating Seasonal Performance Factor (HSPF) ratings for measuring heating efficiency. Higher SEER and HSPF ratings mean greater energy savings.
Heat pumps are a very efficient alternative to electric heat. A heat pump works the same as an air conditioner in the summer, but it runs in reverse in the winter to heat your home. The system will be matched with a backup heating source, most often electric heat for those extremely cold days of winter.
Just like our air conditioners, many of our heat pumps have advanced features, such as 2-stage compressors and variable speed fan operation. These features not only improve the comfort level of your home, but can provide additional energy savings as well.

The air handler is the indoor component of a heat pump system. It includes the fan and the heating/cooling coil. The air handler is designed for a particular refrigerant, so it must be matched with the heat pump or air conditioner.
We offer many air handlers with variable and multi-speed features that can provide enhanced indoor comfort by slowly ramping up to your thermostat setting rather than simply turning on at full speed. This alleviates the "cold air blow" often associated with single speed air handlers, and dramatically reduces system noise.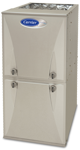 Today's new high efficiency furnaces can save up to 50% in operating costs over a ten-year-old furnace. Many 1990 and earlier model furnaces have Annual Fuel Utilization Efficiency (AFUE) ratings of 65% or less. The minimum AFUE rated furnace that can be sold in the United States today is 80%.
Our current product offering starts at 80% AFUE and goes all the way to a very efficient 96.6% AFUE rating. Depending on your average usage, higher AFUE rated furnaces can significantly reduce your gas bill.
We offer many furnaces with variable and multi-speed features that can provide enhanced indoor comfort by slowly ramping up to your thermostat setting rather than simply turning on at full speed. This alleviates the "cold air blow" often associated with single speed furnaces, and dramatically reduces system noise.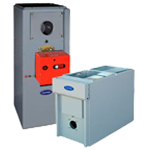 Our oil furnaces use no.2 fuel oil burned in a sealed chamber to heat an exchanger. Just like gas furnaces, oil furnaces also carry AFUE ratings and start at 80% AFUE.

If your home has hot water radiators in each room for heat, you have a boiler to heat the water. Like a furnace, the energy efficiency of a boiler is given as the Annual Fuel Utilization Efficiency (AFUE). Boilers manufactured since 1992 must have an AFUE of at least 80%. We offer a complete line of gas and oil boilers starting at 80% AFUE and up.

Our complete line of packaged systems includes: Packaged Air Conditioners, Packaged Gas Furnaces and Air Conditioners, Packaged Heat Pumps and Packaged Hybrid Heat.
These self-contained systems are located outside of the home, mounted on the ground or the roof, and ducted into the home.
Just like individual furnaces, air conditioners and heat pumps, these package units carry SEER, AFUE and HSPF ratings. The higher the rating, the more energy efficient the unit is. We carry a wide offering that includes advanced features such as 2-stage compressors, variable speed fans and quiet operation.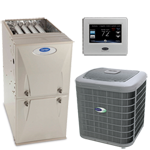 With a traditional heating and cooling system, if you wanted to save more, you had to use less. But a Hybrid Heat system combines the benefits of intelligent control for both gas and electric heating to create an intuitive system that can actually react to changing conditions.
No matter what the temperature is outside, a Hybrid Heat system will automatically select the fuel source most efficient for your home, which means you'll stay warm in the winter, cool in the summer and save money all year long.
To design a Hybrid Heat system for your home, we professionally match one of our heat pump units with a natural gas furnace. Contact us to see how much energy you can save over your existing system.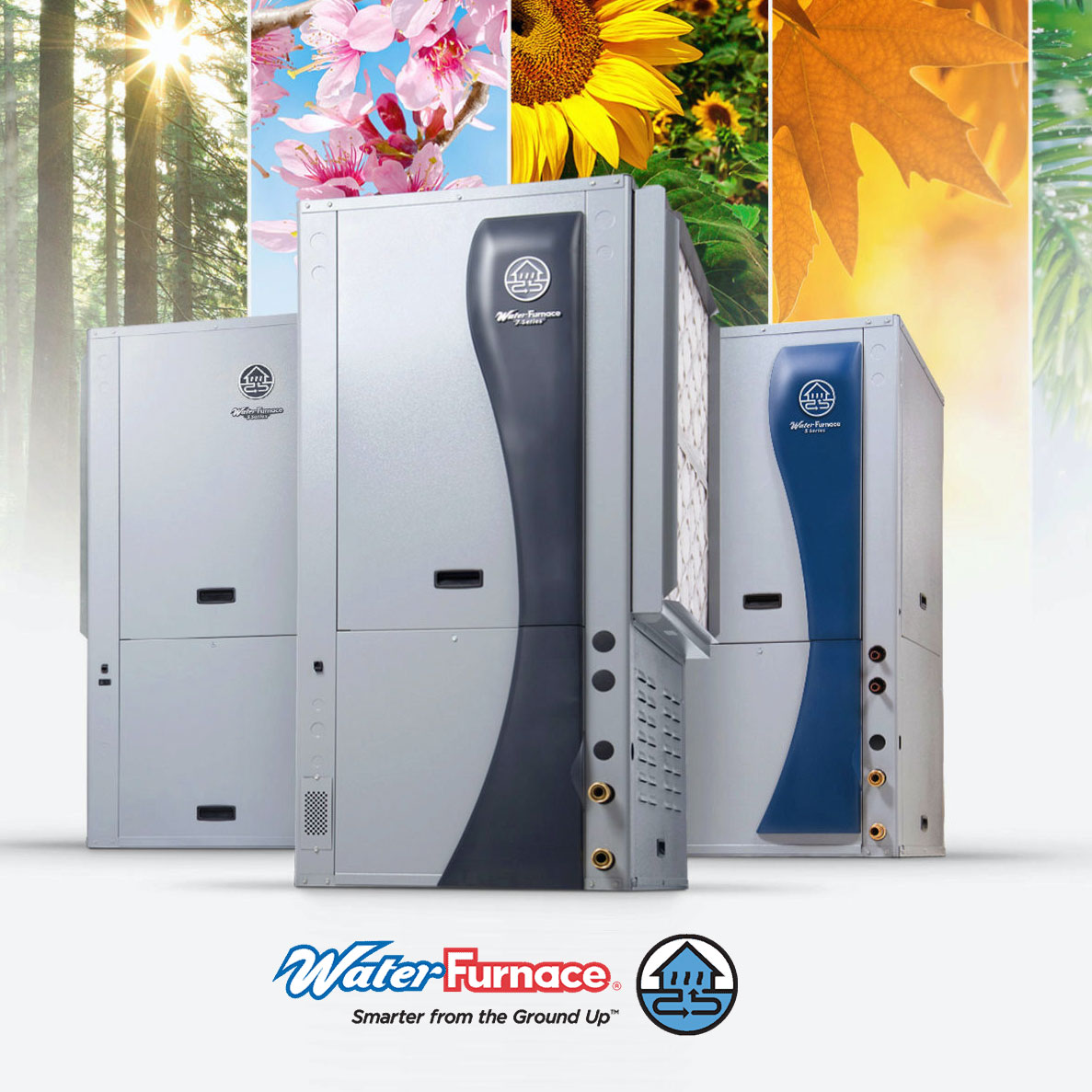 The Earth absorbs almost 50% of all solar energy and remains a constant temperature of 50°F to 70°F depending on geographical location. A geothermal unit utilizes this constant temperature for heating and cooling your home.
You can realize up to 60% energy savings vs. traditional systems. There is no flame, no flue, no odors and no loud outdoor equipment. Heating, air conditioning and hot water can all be attained from a single compact unit.
Mitsubishi Ductless Systems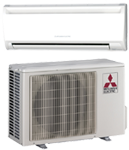 What is Duct Free?
For decades, split-zoning air-conditioning and heat pump systems have been the quiet solution for cooling and heating problems around the world. Our quiet and powerful systems have three main components: an indoor unit, outdoor unit, and remote controller. Installation is as simple as mounting the indoor and outdoor units, connecting the refrigerant lines, and making a few electrical connections.
Why Mitsubishi Electric Ductless Systems?
Mitsubishi Electric is the industry leader in split-ductless air-conditioning technology - period. Compare and you'll see that no one surpasses the Mitsubishi Electric brand's performance for quiet, easy-to-use, and energy-efficient operation. And because our split-ductless technology carries the Mitsubishi Electric name, you know every product is built to last. The bottom line is, Mitsubishi systems deliver the ultimate in comfort control for your home or office. It's true today and will be comfortably evident for years to come.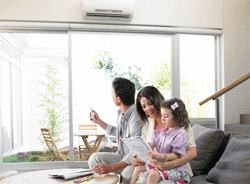 Where Can Mitsubishi Electric Ductless Products Be Used?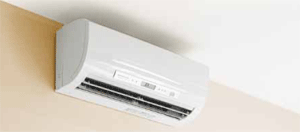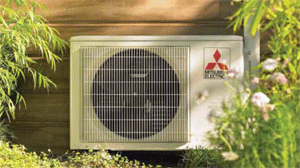 If a room is too hot or too cold, Mitsubishi Electric Cooling & Heating can handle it! Mitsubishi split-zoning systems are specifically designed to improve the comfort level in an uncomfortably hot or cold room of an existing building. Because they don't require ductwork, they're the perfect heating and cooling systems for renovating older buildings that were constructed before air conditioning was available - even those with plaster walls and brick facades. The versatility and variety of applications for Mitsubishi Electric systems are virtually unlimited. They're an excellent choice for almost any spot cooling or heating situation, including enclosed sunrooms, upstairs bedrooms, classrooms, hospitals, nursing homes, restaurants, hotels, workout rooms, computer rooms, offices and churches.
They're also equipped with an anti-allergen filter and prevent the cross-flow of air with contaminants. And because they can be controlled by zone, it's easy to set the controls for the exact room temperature you want.
How does it work? Mitsubishi Electric Cooling & Heating can fit into almost any space because their innovative engineering optimizes the capabilities of the INVERTER technology and R410A refrigerant for more efficient systems with smaller indoor and outdoor units. R410A refrigerant is environmentally friendly, with zero Ozone Depletion Potential (ODP). The units themselves are also made of recyclable materials.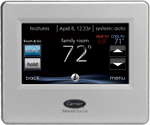 Thermostats are used to turn on heating or cooling systems to bring the home to a set temperature. In addition to basic temperature control, programmable thermostats can be used to manage the indoor environment of your home at different times of the day or week. This type of control can have a dramatic impact on the overall energy use of your home. We carry a complete line of thermostats. Let us help you choose the one that best matches your lifestyle.

Zoning can provide optimum comfort with increased energy savings in your home by dividing a home into areas with similar heating and cooling needs and independently controlling the temperature in each area. Much like multiple light switches that independently control lighting in different rooms, with zoning, multiple zone thermostats or sensors control temperature in different areas of the home. Contact us for an in-home evaluation and estimate.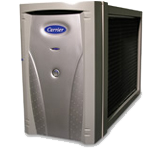 Air cleaners effectively remove bacteria, pollen, animal dander and other pollutants as small as 0.01 microns. That's 18,000 times smaller than the head of a pin. The higher the Minimum Efficiency Reporting Value (MERV), the more efficiently the cleaner removes particles. We offer air cleaners that range from MERV 10 to MERV 15 to meet your needs. For those families that have severe allergies, we also offer Whole House High Efficiency Particulate Arresting (HEPA) filtration systems.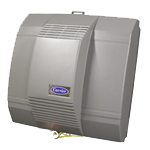 Humidifiers work in tandem with your heating system to deliver desired humidity levels throughout your home. Maintaining proper humidity levels in your home is essential to maintaining indoor comfort during the winter months. Moderate humidity levels make you feel warmer at lower temperatures, which means you can set your thermostat lower without sacrificing comfort.

Depending on the size of your home, we offer a variety of humidifiers to deliver the right amount of moisture into the air. Sizing of humidifiers is measured in Gallons Per Day (GPD), and we offer models from 12 GPD to 18 GPD.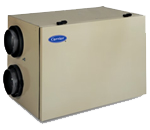 Ventilators bring fresh air into your home without losing heating or cooling energy. Their unique energy exchange system transfers the heating or cooling energy from the stale air being exhausted from your home to the fresh air the ventilator brings into your home.
If your family suffers from allergies, ventilators are a much better alternative for introducing fresh air into your home versus opening your windows. They also do a great job of reducing cooking and pet odors, smoke and other pollutants out of your home.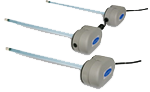 Ultraviolet light kills bacteria and mold growing on your indoor coil before they are circulated throughout your home. UV lamps are installed near your existing indoor coil and work diligently to rid your home of the bacteria, viruses, mold and germs that impact your home's health. We install 1 or 2 lights per indoor coil, depending on the size of the coil.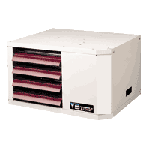 When winter hits, there's one area that we often wish was warmer than it is; the garage. If you have a detached garage that houses your vehicles or workshop, you may want to consider looking at a garage heater. These can not only make the air in the building warmer and more comfortable, but it can actually help when it comes to warming up the car or truck in the morning. We offer a wide selection of electric and gas garage heating systems.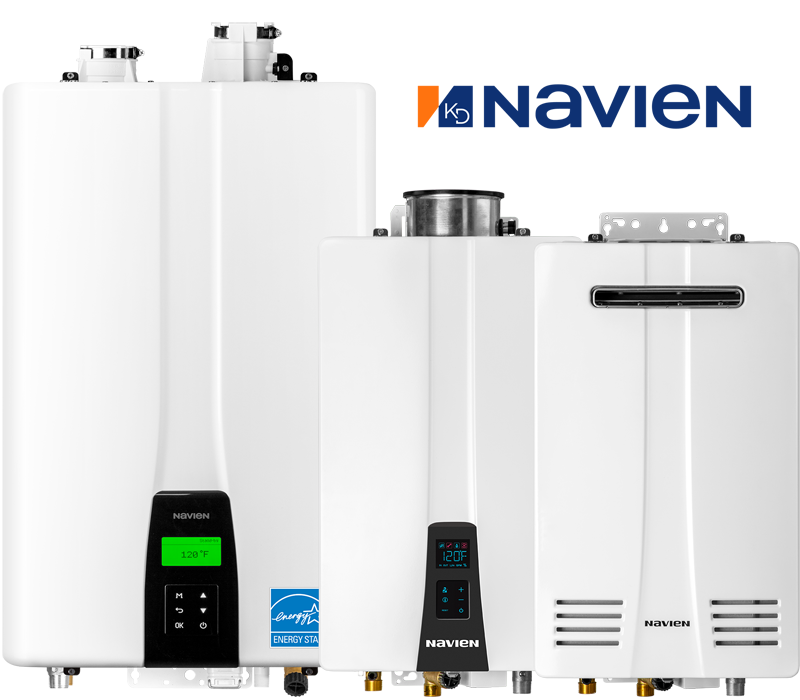 After heating and cooling, water heating is typically the largest energy user in the home because it is necessary for so many domestic activities. The capacity of a water heater is an important consideration. The water heater should provide enough hot water at the busiest time of the day. We offer a wide variety of electric, gas and tankless water heaters.